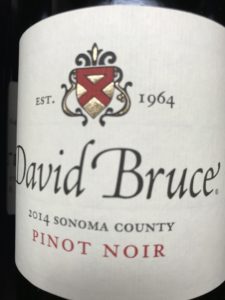 David Bruce 2014 Sonoma County Pinot Noir
The David Bruce Winery was founded in the remote Santa Cruz Mountains in the early 1960's and was one of the first of a new generation of wineries that would lead a modern resurgence of premium winemaking in the region. David Bruce Winery has earned an international reputation throughout its nearly four decades for its dedication to producing the greatest pinot noir in the world. In pursuit of his goal, the winery has adhered to traditional European winemaking practices that trace their lineage back to the early pioneers of winemaking in the Santa Cruz Mountains and Santa Clara Valley. David Bruce Winery has also been at the forefront of efforts to develop innovative new methods that have changed the face of winemaking in California.
The 2014 Sonoma County Pinot Noir had bright ruby and complex red berry fruit aromas with sweet earthy spice. The palate shows cherry, tart raspberry and strawberry flavors with citrus notes, pepper and nuttiness. The finish develops some toasty oak notes, minerality with firm tannins, well balanced coming together. Consistent quality year after year! A good value Pinot as retail is around $30, rivals some $50 bottles.
Cheers!