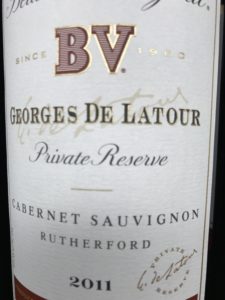 BV Georges De Latour Cabernet Sauvignon 2011
In 1900, when Georges de Latour's wife, Fernande, first laid eyes on the land that would become their original Rutherford vineyard, she named it "beau lieu," or "beautiful place." Shortly thereafter, de Latour sold his thriving cream of tartar business, bought the four-acre ranch and founded Beaulieu Vineyard with the vision of making Napa Valley wines that would rival those of his native France. When prohibition hit most wineries shuttered, Beaulieu Vineyard increased its business fourfold by selling sacramental wine to the Catholic Church. After the repeal in 1933, Georges de Latour became dedicated to the research and innovation that would bring about his Rutherford Estate's finest expression. In 1938, he traveled to France and met André Tchelistcheff, famed viticulturist and enologist who instituted the philosophy of continuous innovation in vineyard and winery to which we remain dedicated today. When he joined Beaulieu and tasted the de Latour family's private wine (what they called "Private Reserve") from the 1936 vintage, he insisted it be bottled and sold as the winery's flagship offering. In 1940, Beaulieu Vineyard released the first vintage of Private Reserve and named it in our founder's honor. The resulting wine became the first release of Georges de Latour Private Reserve Cabernet Sauvignon, a wine that was destined to become Napa Valley's first "cult" Cabernet.
A blend of 94% Cabernet Sauvignon and 6% Petit Verdot, and aged in 94% new French oak, dark and enticing, with complex berry flavors and sweet spices, noting some floral scents. On the palate, cherry and blackberry flavors with cacao notes and spices on firm yet approachable tannins.  Lingering finish with plenty of toasty oak notes ending with mineral tones. Very nice but needs more time to develop into a gem!
Cheers!