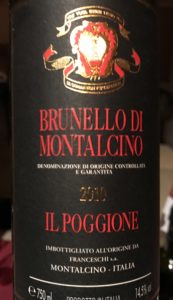 Tenuta Il Poggione Brunello Di Montalcino 2010
Tenuta Il Poggione was founded at the end of 1800 when Lavinio Franceschi, land owner from Florence, decided to visit the area after hearing the stories from a shepherd, who brought his herds around Montalcino during the winter. He fell in love with the landscape and the people who lived in that area, and decided to buy land and establish a grape farm. More than a century later, Tenuta Il Poggione covers an area of 530 hectares, of which 140 hectares are planted with vines and 50 hectares with olive trees. The vineyards are at an altitude between 490 – 1475 feet above sea level: this large gap, together with the age of the vineyards, promotes easy harvest to obtain well-structured wines with long aging potential. After more than a Century, Lavinio Franceschi's work is still a fundamental point of reference for his successors, Leopoldo and Livia, who continue to develop the business with that same dedication and unrelenting passion, combining the ancient skills of winemaking crafts and tradition with the latest, most innovative techniques.
Had this beauty at a recent wine tasting. Aged in French oak barrels for about 36 months, produced from 100% Sangiovese grapes, picked by hand from 20-year old vines. Powerful Ruby with ripe red fruit aromas and complex floral and spice scents. On the palate, this remarkable full-bodied wine shows cherry and berry fruit with layered spices, cinnamon, tobacco and cacao, well integrated. Savory with smooth young tannins, smoky oak notes take this wine to a rich lingering finish. Needs a few years to fully develop. Outstanding! Tasting Sample.
Cheers!