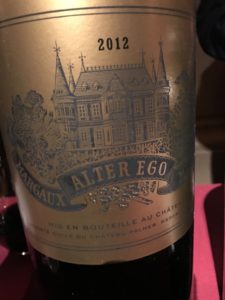 Chateau Palmer 2012 Alter Ego
In 1938, four Bordeaux families – Sichel, Mähler-Besse, Ginestet, and Miailhe – all active in the Bordeaux fine wine trade – joined together to buy Palmer and restore it to the rank it deserved. Two of these families have since left the estate, leaving the Sichel and the Mähler-Besse families at the helm. Since their acquisition of Château Palmer, the families of shareholders have applied single-mindedly the key principles that contributed to the prosperity of this great wine: authenticity, quality and constancy. Originally from the Netherlands, the Mälher family were successful in the textile and the wine business. Having settled in Bordeaux with his wife Marguerite Besse, Frédérick Mälher, the founder of the Franco-Dutch dynasty, set out a wine trade. His friends, Sichel, Miailhe and Ginestet convinced him to join them in 1938 in their Château Palmer venture. Today, their descendants remain active partners and enthusiastically encourage continuing the adventure.
Palmer and its Alter Ego are two nuanced expressions of the Château Palmer terroir, two interpretations of the variations offered by the climatic conditions of the vintage. These variations can be likened, in music, to symphonic pieces and their jazz adaptations, in the visual arts, to a classic painting and a contemporary rendering of the same subject, and, in literature, to an epic narrative in alexandrine verse and a prose poem. Alter Ego was born with the 1998 vintage. It resulted from a new approach to selecting and blending devised to interpret the Château Palmer terroir differently without departing from the values that make the reputation of their wines – namely, finesse and elegance, aromatic richness, harmony and length.
Opening a bottle of the second wine of Château Palmer, I noticed a deep Ruby red color with intense fruit aromas of red/blue and dark berries. The palate on this blend of Merlot: 51%; Cabernet Sauvignon: 40%; Petit Verdot: 9%; aged for 18 month on oak (about 30% new) shows cherry and blackberry fruit flavors with vanilla spice. The tannins are well developed and pack a punch, full and rich but calmed down after decanted, well balanced. The finish was complex, elegant and enjoyable, giving mineral nuances with good length. The 2012 is tasting well now and will get better over time! Very Nice!
Cheers!