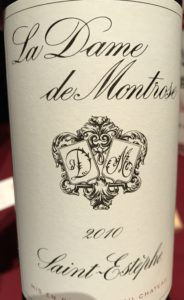 La Dame de Montrose 2010
Château Montrose overlooks the Gironde Estuary. In fact, the proximity of this vast body of water (called locally "The River") is a major advantage. The estuary is responsible for maintaining a mild microclimate and toning down extremes of temperature. Helped by the presence of nearby marshes, it provides remarkable air conditioning in the summer while also compensating for the severities of winter. The large gravel found throughout the estate's topsoil originated in mountains in the Massif Central and the Pyrenees. These pebbles absorb the sun's heat during the daytime and release it at night. This is an important way of improving the maturity of the grape.
Had this beauty at a recent wine tasting. A blend of 53% Cabernet Sauvignon, 37% Merlot, 9% Cabernet Franc and 1% Petite Verdot. Dark red with complex aromas of ripe fruits, currants and floral scents. On the palate black cherry and raspberry flavors with cacao, tobacco and fine pepper spice. Smooth soft tannins, still a bit tight, on a long lingering finish, great balance and mouthfeel, a little creamy texture and still has plenty of room to improve over the next 5 to 10 years.
Cheers!