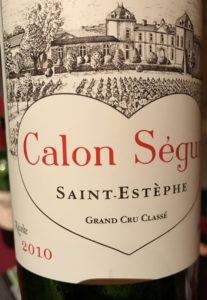 Calon Ségur Saint-Estèphe 2010
Perhaps because it is one of the oldest estates in the Médoc, or perhaps because its most emblematic owner, the Marquis de Ségur, built an absolute legend around Calon. Historians date the origins of Calon back to the Gallo-Roman era. Its name is derived from the term "calones", which were small transport boats that travelled up and down the Gironde estuary. Wine growing at the estate can be traced back to the 12th century, but it was in the 18th century, at the time of Nicolas-Alexandre the Marquis de Ségur, who also owned Latour, Lafite and Mouton, that the finest chapter of the property's history was written. Calon thereafter was to be known as Calon Ségur. The estate acquired the rank of Third Classified Growth in the famous 1855 classification. From 1894 to 2012, Calon's owners, the Gasqueton family, preserved the estate's identity with sobriety and elegance. Today, Château Calon Ségur and Château Capbern Gasqueton, are owned by the Suravenir company, subsidiary of the banking group Crédit Mutuel Arkéa headed by Jean-Pierre Denis, carefully preserve the estate's historic values.
Aged for about 20 months in French oak (30% new) with a blend of 86% Cabernet Sauvignon, 12% Merlot and 2% Petit Verdot. Classic Bordeaux bouquet of rich black fruits and earthy spice. On the palate blackberry and black cherry flavors with leather, gentle herbs and smoky notes. Round silky tannins, elegant with nice acidity balance from start to finish. Very polished lingering finish ending with earthy mineral tones. Tasting Sample.
Cheers!