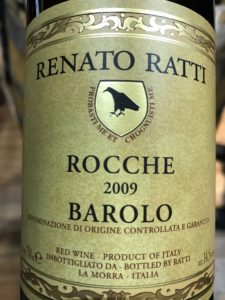 Renato Ratti 2009 Barolo Rocche
In 1934 Renato Ratti is born. After studying enology in Alba, he "emigrates" to Brazil where he is put in charge of the production of Vermouths and sparkling wines for Cinzano of Sao Paolo. The experiences gained operating in such a vast, and challenging country as Brazil will prove fundamental in the development of an innovative outlook, one that will characterize his later work back in the hills of Piedmont's Langhe region. In 1965 Renato Ratti returns to Piedmont and buys his first vineyard for the production of Barolo: a small plot in the historical zone of Marcenasco, right below the Abbey of L'Annunziata (Our Lady of the Annunciation) at La Morra. In the ancient (14th Century) Abbey, he creates his first single vineyard (cru) Marcenasco Barolo.  In 1969, his nephew Massimo Martinelli, he too an enologist, joins the company and together, they perfect a technique of vinification, maturation and refinement for their Barolo.
I went to a private tasting and they had a bottle of this 2009 classic Barolo of 100% Nebbiolo grapes, which was decanted it for about an hour. The Barolo was aged in Oak for 2 years in French oak!  Deep rich Ruby with a grand bouquet of black fruit, blackberries, black cherries, leather, some cacao, tobacco and licorice with sweet spice and earthy notes, a Barolo with elegance and finesse which will only get better. This wine has excellent structure and balance with polished silky tannins, was a delight to drink now, but what will another 10 years yield? If you see a bottle do not hesitate to add this to your cellar.
Cheers!