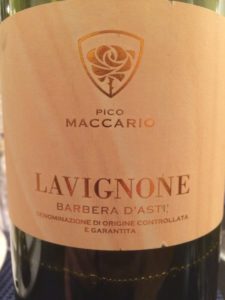 Pico Maccario Lavignone Barbera d'Asti 2012
The Pico Maccario Winery was founded in 1997 in Mombaruzzo, Piedmont with 70 hectares of vineyards in one piece of property in the heart of the Barbera d'Asti DOCG appellation. From the beginning, brothers Pico and Vitaliano Maccario have chosen modern methods to manage their vineyards and produce wine, due in equal parts to their personal taste and young age of their winery. The rose has always been a symbol of the winery. 4500 rose plants of the same cloned variety have the duel function of marking the start of each vineyard row, and – a traditional use – of signaling vine-threatening diseases before they get the chance to do damage. The presence of these thousands of rosebushes creates a beautiful walking experience between the rows of Pico Maccario.
The wine is made from 100% Barbera grapes grown in clay rich soil. It should be noted that Barbera d'Asti achieved DOCG status in 2008 (controlled designation of origin guaranteed). I was lucky enough to get a 1.5L bottle and tucked the 2012 in my cellar for about 2 years, and I was well rewarded!  Warm vibrant Ruby color with a full bouquet of berry fruit aromas and sweet perfumed spice. On the palate complex flavors of plum, cherry and blackberry, white pepper, good structure, balanced with savory acidity and super soft tannins. The wine had a lingering finish loaded with juicy fruit on the ending. Exceptional! Great Value! Tasting Sample.
Cheers!