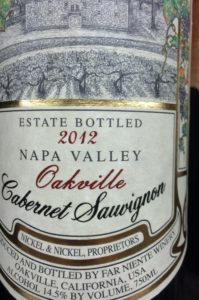 Far Niente Oakville Cabernet Sauvignon 2012
One of California's oldest wineries, Far Niente was founded in 1885 by John Benson, a forty-niner of the California gold rush and uncle of the famous American impressionist painter, Winslow Homer. The winery flourished until Prohibition, at which time it was abandoned and fell into complete disrepair. The stately stone shell of a winery was purchased in 1979 by Gil Nickel, as part of his quest to create a world class wine estate in the Napa Valley. During restoration, the original name, Far Niente, romantically translated to "without a care," was found carved in stone on the front of the building, where it remains to this day. In 1982, Far Niente produced the winery's first Cabernet Sauvignon.
The 2012 Cabernet Sauvignon came from the Martin Stelling Vineyard, located behind the winery in Oakville, and is the cornerstone of Far Niente Cabernet Sauvignon. Planted on some of the best gravelly loam soil in the Napa Valley, the wine is a blend of 94% Cabernet Sauvignon, 5% Petit Verdot and 1% Cabernet Franc, dark purple with focused aromas of black and dried red fruits, herb and earthiness. On the palate plum, blackberry and cassis with savory vanilla, cacao and espresso. Well balanced, super fine tannins, a touch of toasty oak carrying this wine to a lingering finish. Has plenty of room to run, have a bottle to open in 10 years!
Cheers!