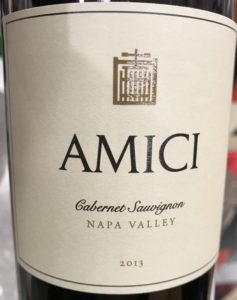 Amici Napa Cabernet Sauvignon 2013
In the 1990's, a group of friends with a passion for good wine and fun times together crushed a few tons of grapes in the Napa Valley for their personal cellars. The resulting wine was so well-received that they started producing wine the very next year to share with the public. They chose to name the wine, appropriately, Amici ("friends" in Italian). Amici's owners: John Harris, Bob and Celia Shepard, and Bart Woytowicz; are all great friends with a passion for making and enjoying great wine. I recently met Robert Emery, Amici's General Manager and tasted a few of his wines, a wonderful Chardonnay from Sonoma and a Napa Cabernet, which I will review today.
A work in progress. Deep red with purple tones and aromas of juicy black fruits and herb spice. A blend of 89% Cabernet Sauvignon, 7% Cabernet Franc, 2% Malbec and 2% Petit Verdot and aged for 20 months in French oak (75% new). On the palate blueberry and blackberry flavors with notes of cacao, espresso and oak. Well balanced with tight firm tannins that need to develop. Lingering finish ending with earthy tones. Should be great in 5 years, put a couple in your cellar. Very Nice Robert!
Cheers!