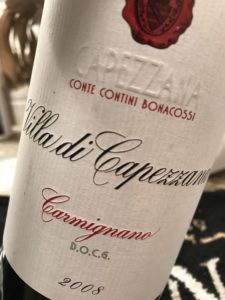 Villa di Capezzana Carmignano 2008
At Carmignano the vines have been cultivated in pre-Roman era, about 3000 years ago, as the Wine jars and tasting cups found in Etruscan tombs demonstrate. In the archives of state of Florence a parchment was found, dated 804; it is a lease showing that as early as 1200 years ago, in Capezzana, vines and olives were cultivated for the production of oil and wine. In the early Renaissance, around 1475, Monna Nera Bonaccorsi built the first 'Nobleman's house' and nine farm houses with the wine-making buildings. Other generations and families followed on the estate property; The Biscotti, related to Medici & The Marchesi Bourbon del Monte. In the eighteenth century a married Biscotti Bourbon enlarged the farm and acquired new farms. After the Bourbon del Monte, the company was passed to the Adimari Morelli and then to Franchetti and Rothschild, the widow Sara de Rothschild, and to finally to the Contini Bonacossi, in 1920.
Had this a couple of years ago at a tasting, like it, but thought it needed some time so I grabbed a few bottles and put them in my cellar, waiting paid off! A blend of 80% Sangiovese and 20% Cabernet Sauvignon, Dark red color, very deep, with aromas of black fruit and sweet herbs. On the palate blackberry, ripe plums and dried cherry flavors with smoke, tobacco and oak notes. I did open the wine for about 30 minutes before tasting. Fine soft tannins with lingering finish, about medium, ending with earthy tones. This is about at its peak and should be consumed over the next year or so. Nice value!
Cheers!