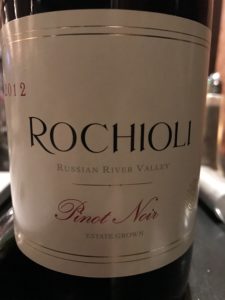 Rochioli Russian River Pinot Noir 2012
The legacy began in 1911 when Joe Rocchioli Sr. immigrated to America along with his parents, Michele and Menichina Rocchioli (they later dropped the second "c"). Originally from a small village just outside of Lucca, the Rocchioli's were one of many Italian families that arrived in New York, made their way across the country, and settled in Northern California. Although Joe Sr. really considered himself a crop farmer, he planted popular "jug wine" blending grapes like French Colombard, Early Burgundy and Valdeguié (Napa Gamay). By the mid-1950s he raised enough money to purchase the Fenton Acres property, the same location where Rochioli Vineyards are today. Their passion for fine wine and high quality grape growing began in 1968 when Joe Jr. began planting Pinot Noir. He had his own ideas as to what would grow best and planted fine Pinot Noir clones from France. This was a remarkable decision as there was very little known about the grape and they were considered a pioneer at the time for doing this. Joe Sr. had the foresight to know that the soil and microclimates of this unique spot in the Russian River Valley was very special and would one day produce some of the world's greatest wines. Shortly after growing Pinot Noir successfully, Joe Jr. planted Chardonnay.
A blend from several vineyards, but mostly from the Sweetwater Vineyard.  Bright Ruby with aromas of ripe fruits and complex spice. On the palate classic concentrated flavors of raspberry, cherry and currants with pepper, herbs and oak. Aged for 15 months on French oak, soft tannins on well balanced structure. The full body finish had a touch of oaky tones and lingered through the ending. Very Nice.
Cheers!