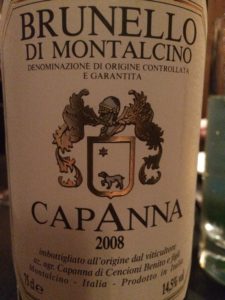 Capanna Brunello Di Montalcino 2008
The Capanna Farm, owned by the Cencioni family since 1957, is situated north of Montalcino in the Montosoli area, which has always been considered one of the best "crus" of Brunello. An area of about 30 acres is cultivated as a vineyard, and the other 28 acres as an olive-grove. Its magnificent position and the stony soil, together with the dry and airy climate, allows Capanna to produce a Brunello wine that is graceful and elegant, suitable for a long maturing process.
Went to a restaurant on the Cape, Barley Neck Inn, which offers half price wines during the month of October. They have a great wine list and I will comment on one of the many I tried. This Brunello is a little lighter than most others I have tried, but it was spectacular and just hitting its prime. Aged for 3 years on Slavonian oak, deep Ruby with rich aromas of ripe fruits and sweet spice. On the palate, cherry and blackberry fruit with complex spice, cinnamon, tobacco and cacao. Lively acidity with smooth tannins, almost creamy, and oak notes take this wine to a lingering finish. Still can last another decade.
Cheers!