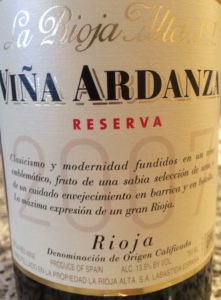 La Rioja Alta S.A. 2007 Viña Ardanza Reserva
On the 10th of July 1890, five Basque and Rioja families shared their passion for wine and founded "Sociedad Vinicola De La Rioja Alta" in what is known as the Haro Station District. That day was the start of an ongoing searching for excellence that their descendants still pursue today. The company changed its name to "LA RIOJA ALTA" in 1891, and in 1941 the company took on its present name, LA RIOJA ALTA, S.A. A year later, chairman of the board, Leandro Ardanza Angulo, registered the renowned brand name, "Viña Ardanza".
To give you a little taste of the town of Haro, in the La Rioja region of northern Spain, every year on June 29th, the day of the patron saint San Pedro, the Haro Wine Festival is held. The festival involves wine drinking competitions and contests and a Batalla de Vino (Battle of Wine), beginning at 7am, with a procession of people old and young, dressed in white shirts and red scarves, all carrying jugs, bottles, botas and other types of containers filled with red wine. The wines are poured at each other from buckets, squirt guns, or any other device that sprays. You start off wearing a white shirt and it is pinky-red when the battle is over. The Town of Haro provides all the wine. Check out the Haro Wine Festival link.
It was my birthday recently, so my son got me something special to drink, a 2007 Viña Ardanza Reserva. From 30-year old vines, the wine is 80% Tempranillo and 20% Garnacha. The Tempranillo spent 36 months on 4-year old American oak and Garnacha spent 30 months on 2-year old American oak, then bottled in 2011, released in the fall of 2015. Vivid Ruby with red fruit aromas, spices and earthy notes. The palate revealed a complex structure with full ripe fruit, cherry and raspberry with some vanilla, mocha and tobacco notes. The finish had typical Rioja earthy mineral flavor, silky tannins and a long ending. Will continue to improve! Nice!
Cheers!