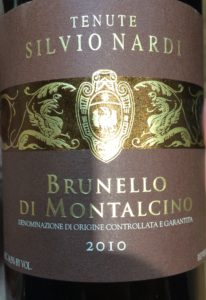 Tenute Silvio Nardi 2010 Brunello Di Montalcino
Tenute Silvio Nardi consists of 80 hectares of vineyards in an unspoiled part of central Tuscany, Montalcino, whose symbol is its great red wine, Brunello. Silvio Nardi founded the estate at Casale del Bosco, and since 1985 it has been run by Emilia, his youngest daughter. Emilia Nardi knows she can depend on Casale's special and distinctive territory to produce a contemporary and elegant Brunello. She has invested in the vineyards of this harmonious natural setting. Each of her signature wines expresses the differing character of Sangiovese when it is grown at Montalcino. The estate's vineyards are situated between 140 and 420 meters above sea level, some extend north-west of Montalcino on the hills around Casale del Bosco, while others are located to the north of it at Tenuta di Bibbiano and to the south-east at Manachiara, where the cru of the same name originates.
This 100% Sangiovese wine, which was aged in oak for 2 years (12 months French oak and 12 months Slavonian oak), I noticed a clear deep Ruby red color with aromas of ripe dark fruits, wet stone and sweet spice. The palate revealed a full-bodied wine with medium acidity, fine yet smooth tannins and a slight warmth of alcohol present. The ripe fruit flavors of cherry and strawberry are complex yet not overdone. Some cacao and tobacco appear on the long finish.  Grab a bottle and pair it with a rich spicy tomato sauce over some wide pasta. Tasting Sample!
Cheers!