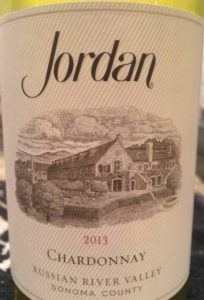 Jordan Chardonnay 2013
In 1972, Tom and Sally Jordan, a young couple from Colorado who shared a passion for French food and wine, followed their hearts to California's wine country. When the two married in 1959, they dreamed of being vintners together. They drank virtually only French wines, enjoyed French food that Sally diligently learned to cook, and traveled throughout France, wining and dining their way through every region. In the 1950s there weren't any restaurants of note in their home town of Denver, so the Jordans either traveled abroad or entertained at home for culinary experiences. The two knew a winery would one day be in their future, but ironically never seriously considered starting one in France. Then one night while enjoying their first glass of Beaulieu Vineyard Georges de Latour in San Francisco, they had an aha moment: They could realize their very French vision in Northern California. In May of 1972, they signed the deed for a remote piece of property in the Alexander Valley, and Jordan Vineyard & Winery was born and coincidentally on the very same day, their son, John, was born.
When I have a steak, I usually grab a Jordan Cabernet as the wine pairs well with beef. I decided to see what the Jordan Chardonnay was all about. The color was a golden straw yellow with aromas of stone and citrus fruits and fragrant spice. The palate was loaded with flavors of apple, pear, lemon and melon, complex, mineral tones with soft oak and cinnamon. The wine was fresh, a touch creamy, with vibrant acidity, well balanced on a long finish. Not a typical CA Chard, with some mid-term aging potential. Outstanding!
Cheers!