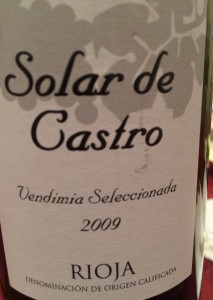 Solar De Castro Vendimia Seleccionada 2009
The winery's oldest reference dates back to 1888, year in which Vicente Domeco de Jarauta presented a wine in Barcelona's world-wide exhibition and won an award. In 1995 José Vicente Domeco de Jarauta built a modern winery where he begins to make commercial wines, and later in 2005, he created Winery Domeco de Jarauta on the occasion of the incorporation. his son Jose Vicente Domeco de Jarauta, who after studying enology in San Sadurni D'Anoia (Penedés) joined the family business creating a winery where its primary target was combining tradition, quality and innovation.
A blend of 80% Tempranillo 20% Garnacha with 12 months of oak barrel aging, this wine has a deep ruby red color and aromas of black fruit and spice. On the palate black cherry and blackberry flavors with hints of woodsy leather and smoky spice. Soft but firm tannins were present with vivid acidity and well balanced. The finish is medium in length and ends with fruity notes. Outstanding value!
Cheers!