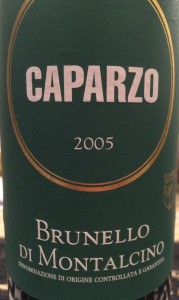 Caparzo 2005 Brunello Di Montalcino
The name of the estate apparently derives from "Ca' Pazzo", as shown on some ancient maps. The estate covers an area of 190 hectares, 54 of which are vineyards, 4 are of olive groves, 87 of which are wooded and 45 of which are to be planted with new vines. Caparzo is the only estate-bottled producer of Brunello di Montalcino to have estate vineyards on all five sides of the hill of Montalcino, ensuring that no matter what climatic challenges effect one side, the other vineyards will more than compensate. More than thirty years have passed since the first vines were planted and the first steps in wine-making taken. In this period, Caparzo, bolstered by its background in the Brunello tradition and the different terroirs of the area, has proved its ability to produce wines with a creative flair and spirit of innovation that achieves top standards in quality.
I had this 2005 tucked away in my cellar and thought it would be a good time to pop it open. Pouring a glass of this gorgeous Ruby red wine that was showing only a touch of garnet edges, aromas of berry fruit, spice, oak and tobacco graced my glass. The palate exploded with smooth flavors of cherry, berry and plum, almost sweet, with soft refined polished tannins, well balanced with acidity. The finish was long and satisfying ending with some oak and espresso notes. Probably difficult to find a 2005, but Caparzo makes great Brunello's so grab one, you won't be disappointed.
Cheers!