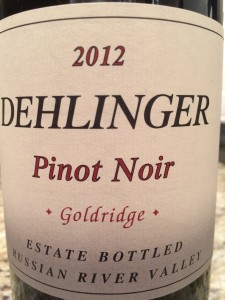 Dehlinger 2012 Russian River Valley Pinot Noir
In 1975 Tom Dehlinger planted the initial 14 acres of vineyard. From the start, his emphasis has been on extracting, developing, and preserving the maximum flavor from the grapes and producing small amounts of hand-worked, barrel-aged wines. Today his focus is entirely on estate grown wines, producing 7000 cases annually of Chardonnay, Pinot Noir, Syrah, and Cabernet Sauvignon, and interested in perfection of technique and the balance and intensity of flavors, than making large amounts of wine.
Opened another outstanding 2012 Pinot from California. Deep red color with aromas of red fruits and a touch of woodsy spice. The palate brings forth cherry and tart raspberry, leather, oak and soft tannins. The wine was well balanced with a lingering finish that improved to the end of the bottle. I have a few more bottles I am waiting on for a few more years. Small production, 1500 cases so don't hesitate if you see a bottle.
Cheers!