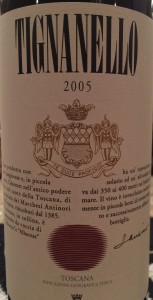 Antinori Toscana Tignanello 2005
The Antinori family has been involved in the production of wine for over six centuries, ever since, in 1385, Giovanni di Piero Antinori entered as a member, the "Arte Fiorentina", the Winemakers' Guild of the city of Florence. During this entire long period, thorough twenty six generations, the family has always directly managed this work with courageous and, at times, innovative decisions, but always maintaining, unaltered, a fundamental respect for tradition and for the territory in which they have operated. Today the firm is run by Marquis Piero Antinori with the support of his three daugthers, Albiera, Allegra, and Alessia, directly involved in the work of the house. Tradition, passion, and intuition have been the three driving principles which have led the Marquis Antinori firm to become a leader in Italian wine.
I have six bottles of this 2005 tucked away in my cellar and decided it was time to open one. Tignanello was the first Sangiovese to be aged in barriques, the first red wine to be blended with non-traditional varieties (like Cabernet) and one of the first Chianti reds not to use white grapes. Tignanello is a milestone. The 2005 was made from a selection of 85% Sangiovese, 10% Cabernet Sauvignon and 5% Cabernet Franc. The wine is aged in barriques for about 12 months and for a further 12 months in the bottles. Tignanello is made exclusively from the vineyard of the same name which is situated on limestone and tufaceous soil on the Tignanello estate.
Pouring a glass the wine was a deep Ruby red color and gave off concentrated aromas of ripe black fruits and gentle floral spice. The palate shows rich blackberries with a raspberry tang, complex, good acidity, balance and depth with ultra-smooth tannins. The finish ended with a slight earthy and woody spice, and cacao, very smooth and lingering. I am guessing that this wine is at its peak, so if you are lucky enough to find a bottle, get the corkscrew!
Cheers!