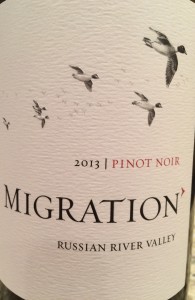 Migration Russian River Valley Pinot Noir 2012
Since its premier vintage of Pinot Noir in 2001, Duckhorn Wine Company's Migration has a compelling style of winemaking. Embodying the elegance of cool-climate California winegrowing, Migration's exploration of the great Burgundian varietals began in the Anderson Valley, where Duckhorn Wine Company cultivates four estate Pinot Noir vineyards, spanning 207 vine acres. Shaped by the valley's cool nights, fog-shrouded mornings and mild, sunny afternoons established Migration's stylistic identity with abundant fruit and bright acidity. Beginning in 2011, Migration also began making a Russian River Valley Pinot Noir and forms the cornerstone of the Migration portfolio.
A light ruby red color with aromas of red fruit and hints of citrus spice.  The 100% Pinot Noir wine was aged for 10 months on French oak, (35% new) before bottling.  On the palate, the finished product was medium-body and displayed a predominant focus of red fruit, cherries, perfectly ripe strawberries and red currants.  The wine showed polished tannins surrounded by lively acidity and a touch of earthy spices, giving the wine a tremendous balance.  Elegant wine at a great price, a real treasure find.
Cheers!