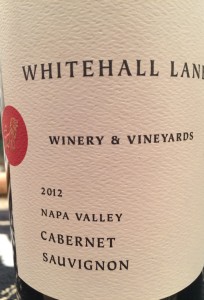 Whitehall Lane Cabernet Sauvignon 2012
Whitehall Lane was founded in 1979 but the history of the soil cultivation dates back two centuries. In the mid 1800's, Napa Valley settlers were drawn to the deep, loamy soils and ideal climate, planting high quality grape vines at the Whitehall Lane Winery site. A barn constructed in the early 1900's for equipment storage is still used today. In 1979, two brothers started the winery and directed their winemaking efforts successfully to Merlot and Cabernet Sauvignon. They named the winery after the road that runs along the south border of the property, Whitehall Lane. In 1993, the Leonardini Family of San Francisco took control of the Whitehall Lane estate. They updated the winemaking, instituted a new barrel-aging program and continued sourcing the finest vineyards. They started with one vineyard and now own seven prime vineyards.
The 2012 growing season was ideal in Napa Valley. Opening a 2012 may be a little early but I wanted to see how the vintage was developing. The wine is a blend of Cabernet Sauvignon (85%), Merlot (6%), Petit Verdot (5%), and Malbec (4%). The color was a deep red and packed a powerful punch of dark fruit aromas with mocha and wet stone notes. The palate shows ripe fresh blackberries and plums, with toasty oak, noting that the blend adds complexity to the wine. The wine was aged for 18 months in French and American oak and, despite being young, had approachable fine grained tannins. The finish was well balanced with good acidity and a nice mineral edge. This wine should age well for a decade and a great value for around $38. Blows away wines priced $50+. They made some estate blends, and when I get my hands on one (can't wait), I will report.
Cheers!