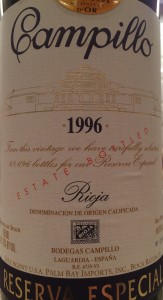 Campillo 1996 Reserva Especial
Bodegas Campillo represents the culmination of the accumulated experience of four generations of winemakers who sought a site at the heart of Rioja Alavesa, Laguardia. Strategically placed in a location in which all key factors: altitude, climate, soil and terrain are ideally suited for growing grapes and ageing their wines. Juilio Faustino Martínez always had the dream of creating a winery surrounded by vineyards, thus transforming the concept of château to the land of Rioja wine. To this end he started his project by acquiring 35 hectares of land near Laguardia in the 1980s which were later expanded to 50. After several years, in 1988, everything was ready to build the winery, even its name: "Campillo", like the first family estate. The architect Aurelio Ibarrondo Fragüela was responsible for the design. In September 1990, this dream came true.
I wanted a special bottle of wine to celebrate my son passing his CPA exam so I reached for the prize in my cellar, the 1996 Campillo Reserva Especial. I met Brand Ambassador Maria Stevens at a tasting several years ago and she indicated that the 1996 Reserva Especial should last for a few more decades! So after 20 years, it tasted great and looks like additional time would benefit the wine, she was correct! Opening a bottle, which I did not decant, the wine was a bright Ruby red color, with the slightest tint of brown edges, showing aromas of beautiful ripe red fruits, with a gentle spicy fragrance. This blend of 60% Tempranillo, 15% Graciano and 25% Cabernet Sauvignon, was aged for 24 months in American and French oak barrels, and 4 years in the bottle prior to release. The palate puts forth flavors of ripe black cherries, plums, dried fruit, leather, cacao and tobacco. The wine still was powerful with balanced acidity and beefy tannins, giving the wine good structure. This full-bodied wine had a long silky finish leaving with some oak and earthy mineral ending. A Gem! At 20 years, still has a few years to go!
Cheers!