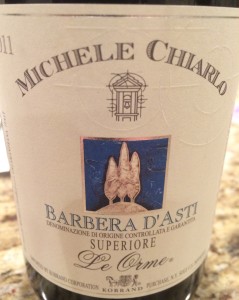 Michele Chiarlo 2011 Barbera D'Asti Le Orme
The Chiarlo style has always that of producing greatly elegant and complex wines with a tendency to excellent longevity and at the same time, featuring all the characteristics of the vineyards and soil from which they claim their origin. In the cellar, winemakers Stefano Chiarlo and Gianni Meleni pursue the goal of being faithful to the Chiarlo style: a moderate and careful use of wood for their red wines so that the varietal and the soil characteristics remain evident. Among the red wines, the winemakers attended to the importance of the Barbera d'Asti wine that they transformed, from the 1970s, by being the first to introduce malolactic fermentation and then to the 1980s & 90s we they managed to raise its quality by the reduction of yields in the vineyard, bringing forth an excellently structured and harmonious wine with very evident notes of red fruit, accompanied by an attractive silkiness and freshness.  The grapes for the Orme Barbera are cultivated in vineyards Montemareto and Costa delle Monache, in the Asti area, historically noted as a Barbera producing region. Barbera is one of the most popular wines served by the glass in Italian restaurants all over the world.
Opening the Michele Chiarlo wine, I noticed a warm vibrant deep ruby color and a bouquet of dark berry fruit aromas, mostly cherries and blackberries.  The taste was somewhat complex with red/dark berry flavors and a hint of minerality, smoke, and spice. The wine had lively acidity with soft tannins and a nice medium+ finish.  For the price, this is a great value, not to be passed up! I will comment on their Barolo soon!
 Cheers!