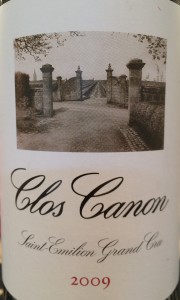 Chateau Canon Clos Canon 2009 Saint-Émilion Grand Cru
Chateau Canon can trace its modern history, which began in 1760 when it was Jaques Kanon, a privateer who made his fortune capturing English ships for Louis XV. In 1996 the world famous Fashion House Chanel purchased the Chateau and initiated a period of investment and renovation. Chateau Canon was managed by John Kolasa who also managed the Wertheimer's other Bordeaux property located in Margaux, Chateau Rauzan Segla until 2015. Much of the progress in the wines, vineyard and cellars of Chateau Canon was due to multiple decades of work and effort from the team of Chateau Canon, which was headed by John Kolasa. Chateau Canon's 22 hectares of vines are planted with 70% Merlot and 30% Cabernet Franc, two varieties which are ideally suited for its terroir. Chateau Canon wines possess a beautiful silky, velvety texture, a result of its clay-limestone terroir.
Opening a bottle of this Right Bank Red Bordeaux, from a blend of 75% Merlot and 25% Cabernet Franc, I noticed fresh black fruit aromas, with complex spice. The palate shows off the fruit very nicely with concentrated ripe flavors of black raspberry, plum and cherries, a slight licorice tang and some wet stone. This blend also shows tender oak and mineral nuances providing great structure and balance. The finish was smooth and rich with layers that lingered. This wine was 6 years old when I opened it, however keep this beauty tucked away in the cellar for another decade and you will find a nice surprise.
Cheers!