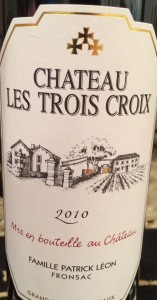 Chateau Les Trois Criox 2010 Rouge
The family of Patrick Léon always dreamed to make their own wine. Their dream became a reality in June, 1995 when the beauty of landscapes called them to a place called " The Three Crucifixes ". Chateau Les Trois Criox, Three Crucifixes for three children (see top of wine label), a nice symbol to make a reality of this dream. Patrick LÉON is associated with some famous wines of Alexis Lichine, Rothschild, Opus One in California and Almaviva in Chile. The Castle of The Three Crucifixes, where a 1712 engraving in the stone of an arch in the cellar, manifests the rank of the domain. The Three Crucifixes, located on slopes with loam composed of big calcareous rocks, which often show in the surface, ideal conditions to make Merlot and Cabernet Franc.
Opening a bottle, which is predominately Merlot (83%) with some Cabernet Franc (17%), I notice deep ruby color with a bouquet of dark black fruit, and a slight leafy nose. Aged for at least 12 months in oak, the palate was rich with fruit, blackberries, cherries and sweet plums, with supple chalky tannins, combined with the right touch mineral to provide a nice structure and balance. This full body wine had a lingering finish, with enough complexity for future aging. Enjoyable!
Cheers!