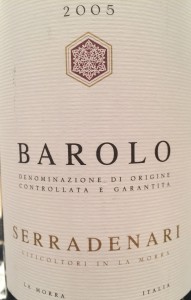 Serradenari 2005 Barolo
The name of the farmhouse, Serradenari, harks back to centuries ago, when the Black Death forced the peasants of Barolo and La Morra to leave their lands and take refuge on the crest, taking with them all their savings – hence, the name Serradenari, from "Sara D'nè," which in the local dialect means "sierra of money." The Diatto-Negri family has owned Serradenari since the late 19th century, they were entrepreneurs in Turin, where they produced Italy's first automobile in the late 1800s, and Serradenari was their country estate. But year after year the Diatto-Negri family started exporting the wine it produced almost as a hobby. It was thanks to them that Barolo and other Langhe wines were first introduced into the United States.
Opening a bottle I noticed a striking deep ruby color with a rich bouquet of fruit, earthy spices, and hints of red floral. The palate is powerful and chewy, with ripe cherries and blackberry flavors, with leather and chocolate assimilating into a rich and robust wine. The finish is savory with nice toasty oak notes and structured pleasant tannins. One of the better Barolo's I have tasted, this is an excellent and enjoyable wine that you should not pass up, if you can get your hands on a 2005.
Cheers!