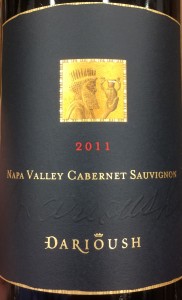 Darioush 2011 Napa Cabernet Sauvignon
Nowhere is the connection between wine and culture more evident than in the history of Persia. Discoveries dating to 5,000 B.C. in the Zagros Mountains of Northern Iran show that winemaking emerged as permanent communities replaced nomadic life and a new age of wine culture began. Darioush Khaledi was instilled at an early age with the winemaking craft of his father, inspired by wine culture in the literary city of Shiraz – in modern day Iran – and the ancient city of Persepolis. He became a lifelong collector, seeking out old world wines infused with tradition and energized by modern technique. Aspiring to the ideals of the American dream, Darioush immigrated to America to seek out opportunities others overlooked. He was an entrepreneur determined to realize his dream, yet always eager to share his journey through his love of wine borne of rich heritage. In 1997, Darioush and his wife Shahpar founded Darioush and began to realize a lifelong aspiration to share the art, architecture, wine, craftsmanship and culture that inspired their journey. The Darioush estate comprises 120 acres in Southern Napa Valley spanning the Mount Veeder and Oak Knoll AVA's.
I recently reviewed the 2008, which I had tucked away and thought it was time to try it. In a word, Tremendous! Being impressed, I reached for my 2011 bottle to compare, couldn't wait! I let the wine breathe for about an hour before drinking. Pouring a glass the wine was clean with a deep dark ruby red color, comprised of 81% Cabernet Sauvignon, 12% Merlot, 4% Cabernet Franc and 3% Malbec, aged for 22 months in French oak (85% new). Note: the 2008 had 85% Cabernet Sauvignon, 8% Merlot blend. Aromas of black fruit, sweet spices and herbs came forth, seemed tighter than the 2008. The palate showed complex fruit flavors blackberries, black cherries, and traces of coffee. This wine was as big as 2008, however tannins were fuller with more depth with good acidity and balanced. Notes of leather, cacao, coffee beans and earthy spices carried this wine to a long silky finish. Make sure this wine is on your "must have" wine list! This wine should drink well for another decade.
Cheers!