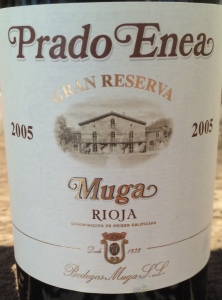 Muga 2005 Gran Reserva Prado Enea
Since the XVII century, the Muga family has been linked to the wine world and to the area of Rioja.  Fast forward to 1932 when Bodega Muga winery was founded and today the winery operates with the same principals it did almost 100 years ago.  Muga also has its own cooperage and is able to control the right touch of oak desired in its offerings.
Opening a bottle, which I let sit for about an hour, the color was a glistening bright ruby.  The nose was clean with plenty of ripe red and black fruit with a touch of spice and herbs.  The wine is made from 80% Tempranillo, 20% Garnacha, Mazuelo and Graciano.  The palate was substantial with red berries and blackberries and hints of dried fruits, well integrated oak and acidity with nuances of toast and vanilla.  The finish was smooth with tannins and mineral notes, complex and lingering.  Outstanding!  Search for this one, you will really enjoy it.
Cheers!