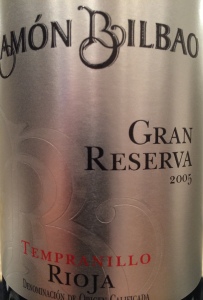 Ramón Bilbao 2005 Gran Reserva
Bodegas Ramón Bilbao was founded by Ramón Bilbao Murga, an experienced wine trader who had been selling wine since 1896 from premises at Calle Las Cuevas in Haro. Ramón Bilbao was a forward-looking grape grower; a pioneer in the art of ageing.  The winery was handed down from one generation to the next until the year 1966, when Ramón Bilbao Pozo, the last of the descendants, died.  The business was converted into a corporation with new shareholders.  New facilities were built, also in Haro.  The new company wished to continue the work of its founder, Ramón Bilbao, and concentrated on making aged wines.  The family business Diego Zamora, S.A., one of the largest beverage groups in Spain and owner of the well-known brand Licor 43, acquired the winery and began a new venture, renovating and adapting existing facilities.  The development of top-quality wines together with innovation while respecting the purest Rioja traditions, represented by the history of the wines of Ramón Bilbao, are the trademark of this emblematic company in Rioja Alta.
Pouring a glass the wine is a deep ruby color with bright edges. Aromas of red fruit, raspberries and cherries with notes of black pepper and sweet vanilla spice are pleasingly pronounced.  The taste is clean and dry with firm tannins.  The fruit on the palate turns into ripe cherry, berry and plum flavors with some leather, tobacco, and chocolate nuances.  A mineral tang is detected on the finish.  This wine is predominately Tempranillo, but I believe there is some Graciano added to this blend.  The wine is aged for 30 months in American oak casks and for 36 months in underground darkness before being released.  Delicious, especially the $25 price where most of the Gran Reserva's start at around $50.
Cheers!