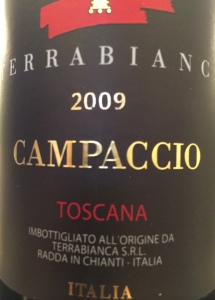 Terrabianca 2009 Campaccio Toscana
In the medieval times Podere Terrabianca found itself in the ambiguous situation of being situated in the part of the countryside under the rule of Florence and, at the same time, also in the diocese of the Bishop of Siena. The very first documents mentioning its presence, dated 1085, describe it as being a country estate as, in fact, its name clearly implies.  Today the winery Terrabianca is located at the heart of the Chianti Classico region, in the middle of Tuscany.  The soil consists of layers of chalk, sand and clay from the Palaeozoic and Mesozoic ages which is the ideal composition to grow grapes of highest quality.
The wine consists of 70% Sangiovese and 30% Cabernet Sauvignon grapes and aged for 12 months in French and American oak barrels. Pouring a glass I see a dark ruby color with ample dark berry fruit on the nose.  The palate shows rich ripe cherry flavors, slight spice and a light toasty oak finish with well-structured tannins.  The wine seems to be well balanced and probably can be kept in the bottle for several years.  A great Chianti Classico!
Cheers!