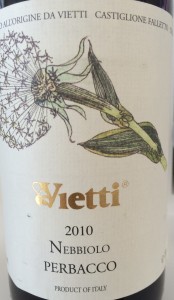 Vietti 2010 Nebbiolo Perbacco
I recently reviewed Vietti 2011 Barbera D'Alba Tre Vigne and talked about the history and roots of the Vietti Winery dating back to the 19th Century and how Mario Vietti, in 1919, made the first Vietti wines, see my July 1, 2014 review.  I was very impressed with the Barbara, I decided to delve deeper into Vietti's wine offerings.  Also in the July 1, 2014 review, I described how the winemakers, in 1970, began to update their wine labels through their friendship and support of local artists and continues today.
Opening a bottle of the 2010 Perbacco, which is 100% Nebbiolo grapes, that come from eight different locations around the Langhe DOC zone in Piedmont.  The grapes from each of the eight vineyards were first vinified prior to blending.  The Nebbiolo was aged for about 16 months in oak (part in large oak casks and part in "barriques", which are small barrels holding about 225 liters).  Pouring a glass I noticed a vibrant ruby red color and smelled aromas of red fruit, cherries, strawberries and raspberries, with a hint of earthy tobacco.  The palate shows generous fruit, slightly tart and mineral, slight spice and a soft touch of oak.  A medium length aftertaste with firm, but subtle, tannins.  Very well done!  This wine will only get better with some bottle age.  A great value for about $25.  If you close your eyes you might think you are drinking a Barolo!
Cheers!