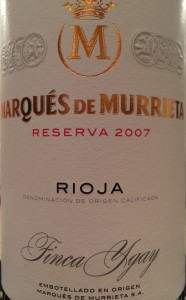 Marqués de Murrieta 2007 Rioja Reserva
I recently reviewed Bodegas Marqués de Murrieta's Rioja Castillo Ygay Gran Reserva Especial 2005, see my June 27, 2014 Cellar Selection review, which is their outstanding flagship wine made only in exceptional years. Bodegas Marqués de Murrieta was founded by Luciano Francisco Ramon de Murrieta in 1852.  He spent his youth in Peru and then moved to London.  In 1844, Luciano settled in Spain and decided to make wine.  In 1878, he purchased the 300-hectares Ygay Estate in the Rioja Alta.  Queen Isabel II made him Marquesado de Murrieta; and so the estate of Marqués de Murrieta was born.  In 1983, Bodegas Marqués de Murrieta was sold to Vicente Cebrián-Sagarriga, Count of Creixell, the father of Vicente Dalmau Cebrián-Sagarriga. Today, Vicente's son, Vicente Dalmau is in charge, with his sister Cristina, together with their technical director Maria Vargas.  Their vines are dominated by Tempranillo, accounting for 75% of the vineyard, with Mazuelo, Garnacha and Graziano largely making up the rest.
Since I enjoyed their Ygay Gran Reserva so much I wanted to try some of their other wines.  Grabbing a bottle of the Marqués de Murrieta 2007 Rioja Reserva, I poured a glass and noticed a deep ruby red color glistening in my glass.  The bouquet was very clean, nice crisp red fruit with a slightly floral aroma.  The taste was traditional for a Rioja, as the wine is a blend of 85% Tempranillo, 8% Garnacha, 6% Mazuelo, and 1% Graciano, aged in American oak for 20 months and an additional 2 years in the bottle before being released.  On the palate, the wine was complex with layers of fresh berry flavors, slight spicy/smoky oak with neat tannins and a sweet mineral finish, all related to the combination of soil and the grape varieties.  At $25 this is an exceptional offering from Marqués de Murrieta and should not be missed.
Cheers!