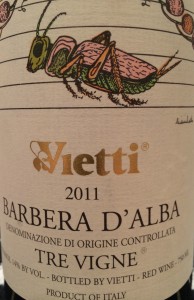 Vietti 2011 Barbera D'Alba Tre Vigne
The history and roots of the Vietti Winery dates back to the 19th Century, however the Vietti name was not used until the beginning of the 20th Century.  In 1919, Mario Vietti made the first Vietti wines which were mainly distributed in Italy.  Mario had a farm with other interests, however his love for wine enabled him to transform the family plantation into a grape growing and wine-producing business, and by 1952, under the guidance of Alfredo Currado (Luciana Vietti's husband), was one of the top-level producers in Piemonte and one of the first wineries to export to the US market.  The Vietti Winery began to vinify grapes from a single vineyard, which was a radical concept at the time, however today virtually every vintner making Barolo and Barbaresco wines offer "single vineyard" designations.
In 1970, the Currados started to update their wine labels through their friendship and support of local artists.  The story goes, that in one long winter evening in Langa, a group of artists, eating and drinking together with the Currados (around a bottle of Barolo), suggested they "dress their art-work in the winery" with "an art-work on the label".  Since then the Vietti wine labels took on their own unique form and continue today.
Getting to the 2011 Barbera D'Alba, the wine is 100% Barbera grapes from three vineyards in Monforte, Castiglione Falletto, and Castiglione Tinella.  The wine is aged for 14 months in Slovenian oak casks, French oak barrels and steel tanks.  The wine is bottled unfiltered.  Pouring a glass I noticed a medium ruby color with ripe berry fruit aromas and a hint of spice.  I have written about "Barbera d"Asti" previously, this wine I am tasting, a "Barbera D'Alba" is slightly fuller and fruitier in structure with traces of flowery fragments.  Tasting the 2011 Barbera D'Alba I detected forward fruit, cherries, blackberries and raspberries, subtle oak with soft tannins, slight spice and a nice finish.  A great Barbera D'Alba to open, and at under $30, is a great value.
Cheers!