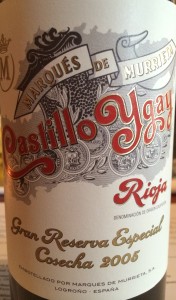 Bodegas Marqués de Murrieta Rioja Castillo Ygay Gran Reserva Especial 2005
Bodegas Marqués de Murrieta was founded by Luciano Francisco Ramon de Murrieta in 1852.  He spent his youth in Peru and then moved to London.  In 1844, Luciano settled in Spain and decided to make wine.  In 1878, he purchased the 300-hectares Ygay Estate in the Rioja Alta.  Queen Isabel II made him Marquesado de Murrieta; and so the estate of Marqués de Murrieta was born.  In 1983, Bodegas Marqués de Murrieta was sold to Vicente Cebrián-Sagarriga, Count of Creixell, the father of Vicente Dalmau Cebrián-Sagarriga. Today, Vicente's son, Vicente Dalmau is in charge, with his sister Cristina, together with their technical director Maria Vargas.  Since taking over, Dalmau has been on a campaign to update his wines stylistically and stated: "We refused to change the identity.  But we added more fruit to the wine, we release the wines sooner, we use newer oak and we leave the wine in oak less time."  The vines are dominated by Tempranillo, accounting for 75% of the vineyard, with Mazuelo, Garnacha and Graziano largely making up the rest and with lesser quantities of white varieties, including Viura, Malvasia and, unusually, Garnacha Blanca.
The traditional flagship wine of Marqués de Murrieta, Castillo Ygay Gran Reserva Especial is made only in exceptional years.  Grape varieties: 93% Tempranillo, 7% Mazuelo, spends 29 months in American oak (new oak for the first 10 months), then spends 3 years in the bottle before being released to the market. There is very limited in production of this wine and it is sought after all over the world, truly one of Rioja's greatest wines.
I was eating at the Barcelona Wine Bar in South Norwalk, CT when I came across a 2005 Ygay Gran Reserva Especial on their wine list.  If you are fortunate to visit Barcelona Wine Bar on a Sunday night, all of their wines are half price!  So the 2005 Ygay was half off $115, which is less than retail!  A no brainer!  Our bartender Holly was excited to open this gem for us as she has never tried it and was anxious to observe our reaction (We finally convinced her to have a taste as well).  The color of this wine was alluring, ruby red, but not too deep.  The bouquet was elegant, the aromas of cherries and berries, subtle spice with earthy tones.  I would like to point out that this is a very traditional tasting Rioja in part due to the grapes and the way the wine was crafted, aged long on oak and long in the bottle giving the wine great depth and character.  The wine is a blend of 89% Tempranillo and 11% Mazuelo , aged in oak for 30 months (American oak for Tempranillo and French oak for Mazuelo) and an additional 2 years in the bottle before being released.  The taste surly did not disappoint, the wine was silky smooth with layers of flavors tobacco, smoky cedar, dark fruit, vanilla spice very well balanced with firm tannins and a clean structure, ending with a nice lingering finish.  I cannot say enough about this wine.  If you are able to get your hands on a few bottles, tuck them away as they should be great well beyond 2020.  About 8,000 cases were made and retail is about $60.
Cheers!