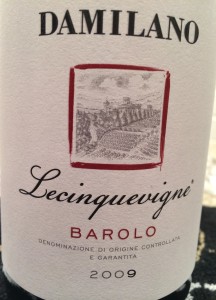 Damilano 2009 Barolo Lecinquevigne
The Damilano Wine Company, one of the oldest wineries in Barolo, dates back to 1890 when Giuseppe Borgogno, the great grandfather of the current owners, began to vinify his own estate.  The town of Barolo resides in the lavish and beautiful Langhe region, which basically produce Nebbiolo wines, including Barolo.  Barolo, known as the "king of wines", because of the uniqueness of the Nebbiolo grape and its balance of acidity and tannins combined with remarkable flavor and delicacy.  Damilano produces wines that are celebrated for their unmatched style and the tradition is carried on by Paolo, Mario and Guido Damilano, the fourth generation.  Together they have brought new vigor to the Damilano family business by strengthening and developing the fruit which this extraordinary land has to offer.
Barolo Lecinquevigne is a blend of Nebbiolo grapes from five vineyards located in the areas most adept for the cultivation of this varietal.  The grapes used for this impressive blend are grown in the limestone clay soils of Barolo, Verduno, Grinzane Cavour, La Morra and Novello.  Opening a bottle, which I have kept at 64 degrees, I noticed a striking deep ruby color with a rich bouquet of fruit, spices, leather and chocolate that assimilate into a rich and robust wine.  The finish has a nice toasty oak flavor with soft pleasant tannins.  Although not as chewy as some other Barolo's I have tasted, this is an excellent and enjoyable wine that you should not pass up.  Pick up this great Damilano offering for about $39.
Cheers!