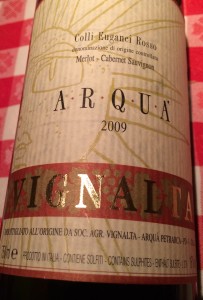 Vignalta 2009 Arqua Colli Euganei Rosso
We decided to have dinner at my absolute favorite restaurant again, Pasta Nostra, located in historic South Norwalk, CT (or "SoNo" as it is referred to).  Owned and operated by Chef Joe Bruno, Pasta Nostra, located in a cozy storefront, offers a variety of pasta, fish and meat dishes, hand crafted with the highest quality of ingredients.  As I have commented previously, Pasta Nostra has an exceptionally fine wine list at very reasonable restaurant prices.  This time we decided to try Vignalta's Arqua 2009 Colli Euganei Rosso.
Vignalta was founded by Lucio Gomiero in 1980 who proclaimed that he could produce wines as good as anything in Bordeaux.  Colli Euganei is located in the Northwest region of Italy and shares the same lines of latitude with Bordeaux.  The estate is spread over 123 acres on the south facing slopes of Colli Euganei, an area with unique soil and varietal combinations.  Colli is Italian for "hills" and Vignalta translates to "high vines".  The Colli Euganei, with their volcanic origin, has terrains rich in minerals, a mild climate and good thermals producing extraordinary grapes.  Their wine cellar is completely dug into the rock, which is not only impressive, but very functional in aging wines at a constant temperature and humidity.  Lucio states; "that he is sure of the goodness of his wines, however he is not asking for acts of faith, rather invites you to cocktails".
The 2009 Arqua is a blend of 80% Merlot and 20% Cabernet Sauvignon produced on the chalky hills in the community of Arquà Petrarca.  The Merlot and Cabernet grapes grown in these soils are extremely concentrated in fruit flavor.  The wine is aged for 2 years on French oak and another 6 months in the bottle before release.  The wine has a deep ruby red color with powerful dark berry fruit aromas that make the blend of the Merlot and Cabernet Sauvignon a powerhouse.  The palate offers black cherry and sweet berry flavor with a touch of peppery spice and smooth slightly tannic and mineral finish.  Arqua is about $30 retail and was $50 in the restaurant.  Vignalta offers several other wines, including a Reserva with a Cabernet Franc and Cabernet Sauvignon blend that I am anxious to try, if I can find in in the US.
Cheers!