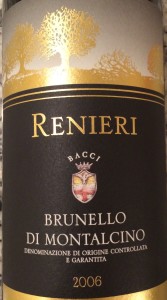 Renieri – Brunello di Montalcino 2006 Riserva
I met the wine maker Marco Bacci, of Bacci Wineries, at a private wine dinner in the home of a large New England wine merchant.  We tasted several of Marco's wines that night.  His vineyard is high in altitude with iron rich soil, located in the southern part of Montalcino. Most of his wines are reasonably priced as he told me "his focus is to produce the best possible fruit".  The Riserva I opened recently was one of Marco's pricier offerings, but well worth it.  100% Sangiovese, the principal grape, was aged in French Oak for 24 months which gives the wine both its complexity and smoothness.  Truly a memorable wine that you will crave for more.
Opened the wine and took a sip, a little tight so I decanted for 45 minutes to enable the softness to break through.  Wine opened nicely with a good balance of concentrated fruit.  Nice earthy and leathery tones.  I would say this wine will still develop nicely for the next several years. I plan on holding on to the other bottles for a while.  You can pick up a bottle for about $45.
Cheers!