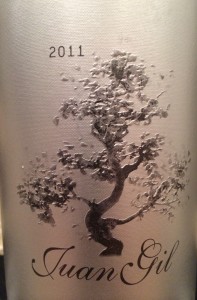 Juan Gil 2011
In a previous post I discussed wine from Jumilla, see Bodegas Luzón. The Jumilla region has been growing grapes and making wine for over 5,000 years, yet this region is just beginning to catch on. More and more offerings are appearing on the wine shelves. I have always been a big fan of Spanish wines and always passionate in my search for Fine Wines.
Bodegas Juan Gil winery originated in 1916, when Juan Gil Giménez, great-grandfather of the present generation, started getting involved in the world of wine, building a winery in the heart of Jumilla. His son, Juan Gil Guerrero, dedicated his life to this world. But the ones who really consolidated the project were Juan Gil González and his brother Paco, the founder's grandsons. At present, the Gil Vera family, Juan Gil Lencina's great-grandchildren, are the owners of Bodegas Juan Gil. They decided to start a new cellar on the property that the family owns in Jumilla, in order to get it adapted to the market. This new cellar is situated in "Término de Arriba" in the northwest of the city. It is so called because it is the highest point in Jumilla. It has been a winegrowing area for centuries and yields grapes of extraordinary quality.
Pouring a glass of this treasure, it has a very dark purple color with aromas of fresh red berries. The wine is comprised of 100% Monastrell (Mourvèdre) grapes and sits on French oak for 12 months. The wine is layered with ripe fruit, and has a smooth toasty oak and slightly sweet finish, typical of Monastrell grapes. The 2011 should develop nicely for a few more years in the bottle. Grab some of this great wine and at under $20, a real bargain. The price of this wine will rise in the future, so stock up.
Cheers!