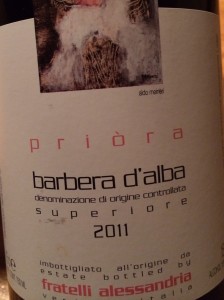 Priòra Barbera d'Alba 2011 Fratelli Alessandria
With all this continued bad and cold weather, my wife Elaine and I decided to go to dinner at my absolute favorite restaurant, Pasta Nostra, located in historic South Norwalk, CT (or "SoNo" as it is referred to).  Owned and operated by Chef Joe Bruno, Pasta Nostra, located in a cozy storefront, offers a variety of pasta, fish and meat dishes, hand crafted with the highest quality of ingredients.  Chef Joe's staff has been with him for many years, and have come to know his customers very well.  Since it's opening in 1984, I have (without exaggeration) have dined there over 500 times, and I have never been disappointed.  There isn't a restaurant in the world I can come close to making that same statement.  Pasta Nostra has an exceptionally fine wine list at very reasonable restaurant prices.  We decided to try a Barbera from Fratelli Alessandria at the recommendation of the Jose, the restaurant Manager.
Fratelli Alessandria produces wines only from their own grapes and continues to manage the winery as a family run operation.  Fratelli Alessandria is owned by Gian Battista together with his wife Flavia, his brother Alessandro and his son Vittore.  Together they proudly carry on their ancestors' tradition and passion for wine making.  Gian Battista's belief is that "A great wine comes from a great vineyard", and he personally takes care of the vineyards.
Priòra Barbera d'Alba has been aged for at least one year in oak.  The Barbera grapes used in this vintage comes from selected grapes from two vineyards: Gramolere in Monforte and Rocche dell'Olmo in Verduno, which are particularly well exposed and suitable to the growing of Barbera grapes.  Gian keeps his yields low in order to get concentrated rich grapes which, which are then aged in small barrels in order to obtain a well-structured and complex Barbera d'Alba.
When Jose poured the wine into my glass, I noticed a vivid deep ruby color and giving off a big bouquet of delicious berries.  Finally tasting the wine the big round flavor of berries, cherries, raspberries and blackberries exploded and concluded to a lingering finish with soft tannins.  The restaurant price was $49, however you can pick one up for under $30 if you can find a bottle.  Better yet, visit Pasta Nostra and you can enjoy this Barbera with a great meal.
Cheers!