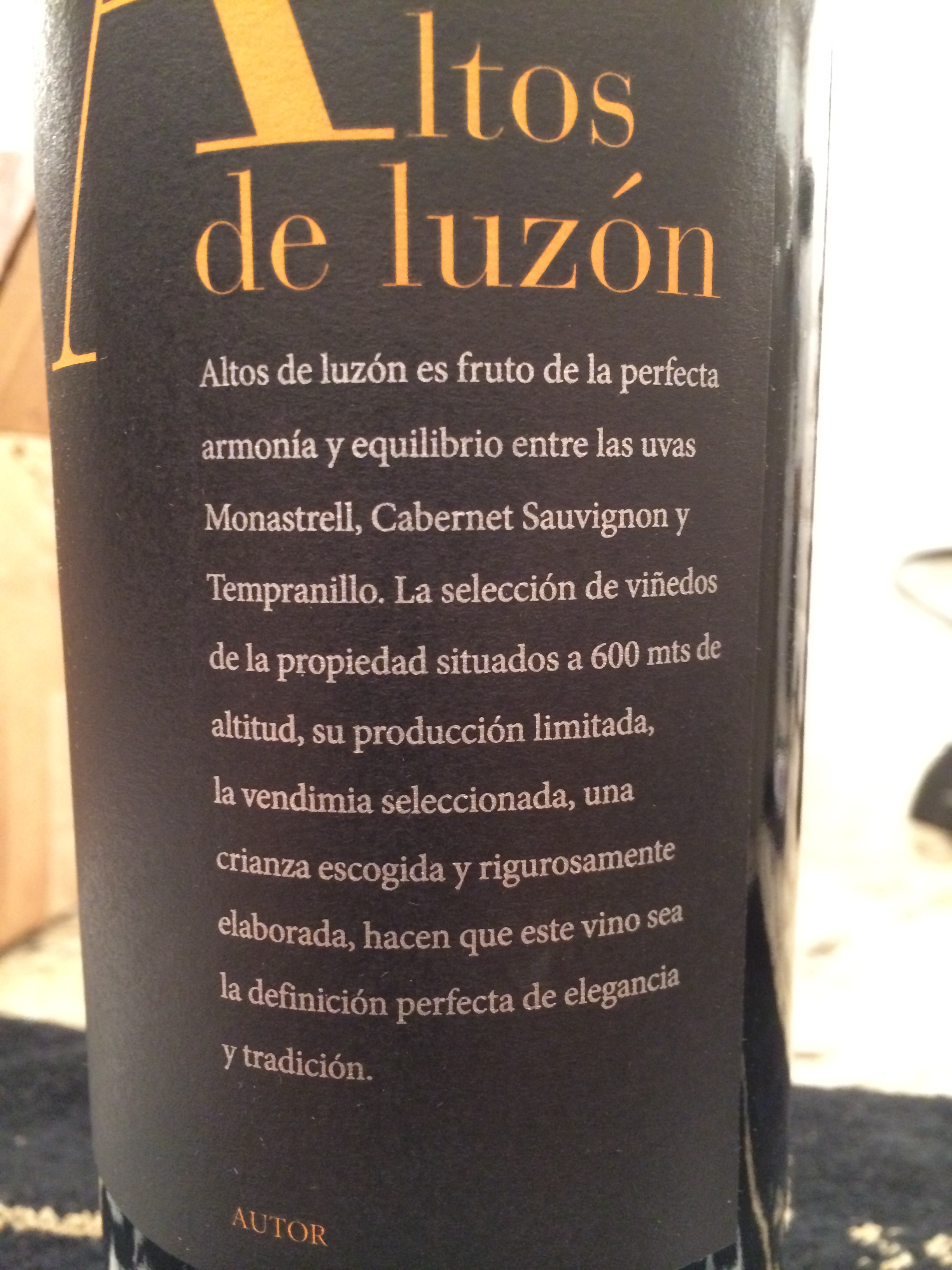 Altos de Luzón 2007 Bodegas Luzón
Another Polar Vortex!  Looking to warm up I reached for lush Spanish red from Bodegas Luzón, a wine from Jumilla, which is sure to warm you up a bit.  The Jumilla region has been growing grapes and making wine for over 5,000 years.  The climate in Jumilla is somewhat challenging with warm summers, little rain and cold winters, even snow at times, so the vines must be able to withstand the extreme changes.  The vines, planted in rocky soil and limestone, are spaced far apart due to the lack of irrigation, resulting in low yields with concentrated fruit, thick skins, good sugar and acidity.  Bodegas Luzón is located in the province of Murcia in southeastern Spain and its roots date back to a union of grape growers and producers in 1916.  In 2005, the winery was acquired by the Fuertes Group who completely modernized Bodegas Luzón, and is now a leading producer in Jumilla DO (Spanish Denominación de Origen).
Opening the wine, stored at 62 degrees, and pouring a glass, I notice a very deep enticing warm purple color.  The bouquet of powerful aromas of fruit, berries, plum, vanilla and mineral notes floated up.  The wine is a blend of 50% Monastrell (Mourvèdre), 25% Cabernet Sauvignon and 25% Tempranillo grapes, aged for 12 months in both French and American oak.  I enjoy the wine's smooth easy taste with ample fruit, nice tannins and an oak/mineral finish.  We paired this wine with an ahi-tuna dish and it went very well.  I am sure it goes well with meals from steak to fish and everything in between.  This wine is a 2007 and drank very well with good structure and should last a few more years in the cellar.  In fact, for the price, I will put down a few bottles and check back in a few years, hopefully I will not succumb and open the bottles early as the wine is a pleasure to drink.  You can pick up a bottle around $17.
Look for Bodegas Luzón and other wines from Jumilla as they are an extremely good value and as this region catches on you should see more offerings on the wine shelves as wineries continue to develop their brands and understand the export trade.  I have always been a big fan of Spanish wines and now I am looking forward to enjoying new wines from Jumilla.  Keep warm!
Cheers!