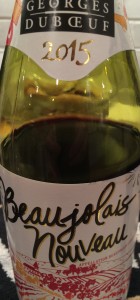 Georges Duboeuf 2015 Beaujolais Nouveau
On November 19, 2015 wine aficionados across the U.S. celebrated the arrival of Beaujolais Nouveau. Since this French wine first came to the U.S. in 1982, Beaujolais Nouveau Day has been an annual celebration to honor the end of harvest and offer the first taste of the new vintage. Released at 12:01 a.m. on the third Thursday in November per French law, Beaujolais Nouveau is a bright, flavorful red wine made from the Gamay grape. Each year, Georges Duboeuf unveils a new wine label. The 2015 label depicts the lush Beaujolais vineyards and bright, celebratory colors of the harvest. Georges Duboeuf is a producer of award-winning French wines from the Beaujolais and Maconnais regions of Burgundy and the South of France. Georges Duboeuf's love affair with Beaujolais is no secret. His legendary palate, his ability to spot great wine and his enthusiasm continue to make him an emblematic figure in the wine industry. His wines are renowned for their consistency, quality and value. Georges Duboeuf currently works closely with hundreds of wine growers (over 400 in the Beaujolais region alone) to ensure the highest quality fruit from each region. They are sold in 120 countries throughout the world.
As with most wine aficionados, I too am always anxious to join in on the celebration and try the new harvest upon release, and usually I am less than excited after drinking a bottle, until this year! The attention this year is on the quality of the 2015 vintage, and in my opinion, one of the best ever produced! Winemaker Georges Duboeuf said "Thanks to an extremely early harvest and blazing sunshine throughout the summer, our grapes have obtained perfect maturity this year." Pouring a glass, I noticed a very deep Ruby red velvet color (deeper than other years) and aromas of rich ripe red fruits. The palate shows tart Raspberries with some black cherry sweetness. The full-bodied wine has gripping tannins and balanced acidity and finishes with good length. Wow! At $10, a real bargain.  Grab a case and celebrate!
Cheers!