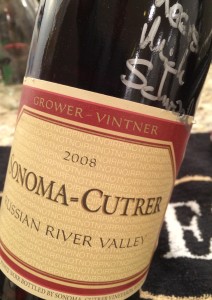 2008 Sonoma Cutrer Russian River Pinot Noir
I found this 2008 Pinot Noir tucked away in my cellar. Winemaking Director Mick Schroeter hand signed this bottle at a tasting a few years back. Winemaking is often a trade passed down from generation to generation, and Mick Schroeter is no exception. Starting out on his own as an oenologist at Kaiser Stuhl winery in Australia, Mick wanted to blaze his own trail and had no intentions of following in his father and uncle's footsteps at the Penfold Winery. Then in 1982, as fate would have it, Penfold bought Kaiser Stuhl and reunited Mick with his family in the business. Mick rose rapidly through the Penfold system and had the privilege to be part of their red winemaking team, eventually working on Penfold's legendary Grange Hermitage, the benchmark of Aussie Shiraz. From there Mick went to California and did a 17-year stint at Geyser Peak Winery. It is his long track record of success and illustrious career in Australia and California, along with twice being named "Winemaker of the Year" at the London International Wine & Spirit Competition, that gave Mick the encompassing experience to take the reins at Sonoma-Cutrer.
Pinot Noir is a demanding grape and only grows well in the right conditions, climate, soil and proper care, perhaps that is why the grape is favored by most.  Pinot Noir, the Nobel grape from Burgundy, comes from a region in France known for crafting coveted wines made from this grape varietal. I should note that the flavor and aroma of Pinot Noir's are very different from France vs. California, in part due to the delicacy and complexity of the grape and its growing conditions.
The 2008 Sonoma Cutrer Russian River Pinot Noir is an outstanding offering from the winery, and tasting this in 2016 was a treat. The color was a bright ruby red, somewhat luminous, giving off aromas of fresh fruit, cranberry and ripe red cherries with spice accents of cinnamon and vanilla.  The wine is silky smooth, with rich fruit flavors of berries and cherries, balanced acidity and fine tannins. I noted a bit of cedar and sweet tobacco on the clean lingering finish. Well Done and aged very well! You probably will not find this wine on the store shelf, but look for a current vintage that Mick Schroeter has crafted, you will not be disappointed. I also suggest that you visit the Sonoma Cutrer website and you will find out some interesting information as well as recipes and some food pairings.
Cheers!