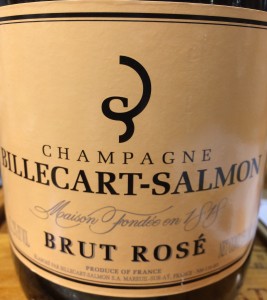 Champagne Billecart-Salmon Brut Rosé N.V.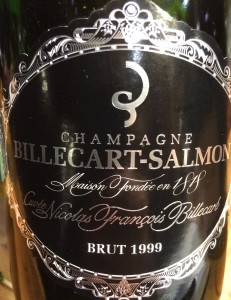 Champagne Billecart-Salmon Brut Cuvée Nicolas François Billecart 1999
This is the third in a four-part tasting series from a private Billecart-Salmon Champagne event led by Billecart-Salmon Brand Ambassador, Clement Calleja. Today I am commenting on two Champagnes; Billecart-Salmon Brut Rosé N.V. & Billecart-Salmon Brut Cuvée Nicolas François Billecart 1999.
Billecart-Salmon is a medium-sized champagne house in Mareuil-sur-Ay, France, near Epernay. Founded in 1818 with the marriage of Nicolas François Billecart and Elisabeth Salmon, it is one of the few to remain family owned. The excellence of Champagne BILLECART-SALMON is due to the knowledge of its men who cultivate with rigor an estate of 100 hectares and obtains its grapes from an area totaling 220 hectares, in the Champagne region. The majority of the grapes used for vinification come from a radius of 20km around Epernay, where the Grand Crus of Pinot Noir, Chardonnay and Pinot Meunier co-exist, in the mythical lands of the Montagne de Reims, the Vallée de la Marne or the Côte des Blancs. The jewels of the estate are cultivated out of sight in the Clos Saint-Hilaire.
Pouring the Billecart-Salmon Brut Rosé N.V. Champagne into a chilled glass (chilling the glass a bit with club soda and ice enhances the bubbles, but do not over chill the Champagne, I recommend between 45 to 50 degrees), I noticed a pale brilliant pink color, fine bubbles and detected elegant aromas of fresh red fruits, with gentle citrus scents. The Brut Rosé, a Romantic champagne, is a blend of Chardonnay, Pinot Meunier and Pinot Noir vinified as red wine. The palate revealed a very light tasting wine, graceful and sophisticated, with flavors of fresh raspberries and ripe cherries integrated with some slight spice. I also noted a hint of chalky mineral with vivid acidity on the well balanced lingering finish.
Now pouring the Billecart-Salmon Brut Cuvée Nicolas François Billecart 1999, I observed a light golden yellow color with fine rolling bubbles. I should point out that this cuvée was created in 1964 as a tribute to the House's founder. It results from the blending of grands crus from the classified Côte des Blancs vineyards (Chardonnay) and the Montagne de Reims (Pinot Noir). Its vinification, partially in traditional oak casks, reinforces the generous character of this fine, elegant and rich wine. Now to aromas, I noticed complex rich and zesty fruits with some spice and a distinctive yeasty nose. Although this is not classified as RD (Recently Disgorged, where the residual dead or residual yeast (lees) is left in the bottle for several years giving the wine its unique and complex taste), this wine had extended aging on its lees. The palate had flavors of fresh apples and pears, a touch of lemon with some spice. This wine was a little creamy on the lingering finish along with balanced acidity, minerality and yeasty notes. Very Nice!
Cheers!