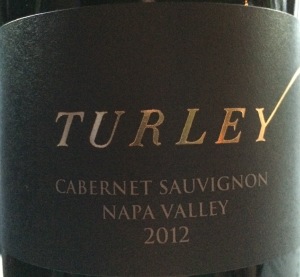 Turley 2012 Napa Cabernet Sauvignon
Born in Tennessee and raised in Georgia, Larry Turley of Turley Wine Cellars has spent the better part of his life on a farm. Being in the south, there were primarily tobacco and dairy farms; nevertheless, his respect for the land and its cultivation began at a young age. As an adult, Larry channeled this passion for preservation towards people, studying medicine and working as an emergency room physician.  Because Larry has never met an old vine vineyard he didn't like, Turley makes 28 separate wines from 35 different vineyards, some with vines that date back to the late 1800's. Often weak and decaying, these old vine vineyards require extra care and attention in order to restore them to their former glory. After twenty-five years in the emergency room, Larry can now focus his resuscitative skills on the various old vineyards that comprise the wines he loves.
I recently tried a Turley Cedarman Zinfandel and it was outstanding. I was able to get a bottle of their 2012 Napa Cabernet Sauvignon, which was their inaugural vintage. Opening a bottle I noticed a vibrant deep Ruby red color with aromas of dark black fruit, not overripe, and complex spice. The palate shows smoothness, despite being a 2012 with vines planted in 1989, with blueberry and blackberry fruit, cinnamon, vanilla and herb spices with approachable tannins that should develop well for some time. This full-bodied wine was well balanced with good acidity. The finish was medium length and ended with a dry mineral taste.  Very nice for the inaugural vintage.
Cheers!