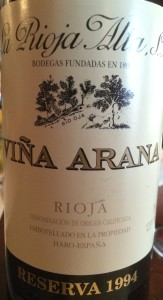 La Rioja Alta S.A. 1994 Viña Arana Reserva
On the 10th of July 1890, five Basque and Rioja families shared their passion for wine and founded "Sociedad Vinicola De La Rioja Alta" in what is known as the Haro Station District.  That day was the start of an ongoing searching for excellence that their descendants still pursue today.  The company changed its name to "LA RIOJA ALTA" in 1891, and in 1941 the company took on its present name, LA RIOJA ALTA, S.A. A year later, chairman of the board, Leandro Ardanza Angulo, registered the renowned brand name, "Viña Ardanza".
To give you a little taste of the town of Haro, in the La Rioja region of northern Spain, every year on June 29th, the day of the patron saint San Pedro, the Haro Wine Festival is held.  The festival involves wine drinking competitions and contests and a Batalla de Vino (Battle of Wine), beginning at 7am, with a procession of people old and young, dressed in white shirts and red scarves, all carrying jugs, bottles, botas and other types of containers filled with red wine.  The wines are poured at each other from buckets, squirt guns, or any other device that sprays.  You start off wearing a white shirt and it is pinky-red when the battle is over.  The Town of Haro provides all the wine.  Check out the Haro Wine Festival link and photo below.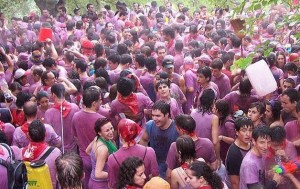 It was my birthday recently, so I wanted to order something special from one of my favorite restaurants (I am not mentioning the restaurant because I do not want the bartender to get in trouble).  I ordered a 1994 R. Lopez de Heredia Gran Reserva, however he showed up with the 1994 La Rioja Alta S.A. Viña Arana Reserva, and started to cut the foil when I commented to him it was the wrong wine.  After checking the computer he indicated they didn't have any more 1994 R. Lopez de Heredia, but since it was my birthday he offered to give me the 1994 Viña Arana Reserva for the same price (although the price was 50% more at a whopping $188).  How could I pass this up? He made me an offer I couldn't refuse!
Opening the bottle and pouring a glass the color was still gorgeous for a 1994, a dazzling light ruby red which kept my excitement level high!  This Viña Arana Reserva is comprised of Tempranillo and Graciano from Rodezno and Labastida.  The wine, after months in century old vats was placed in 225 litre American oak casts in March of 1995, for three years, then bottled in 1998.  Aromas of full ripe fruit, black cherries and blackberries, with some spicy/peppery notes.  The palate revealed a complex structure with layers upon layers of flavors.  The dark red fruit exploded on the senses with that very typical Rioja earthy mineral flavor, adding touches of spice, cedar, tobacco and the slightest suggestions of oak all winding up with an enjoyable finishing.  This 1994 Viña Arana Reserva was still tasting extremely well and will continue to do so for some time to come, although if you can get your hands on a bottle open it up and enjoy!
Cheers!