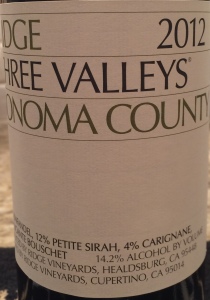 Ridge 2012 Sonoma Three Valleys
Ridge Vineyards history begins in 1885 when Osea Perrone, a prominent Italian doctor in San Francisco, purchased 180 acres of land near the top of Monte Bello ridge. Perrone terraced the slopes, planted vineyards and constructed the Monte Bello Winery, producing the first vintage in 1982. In the 1940's, William Short purchased the abandoned winery and vineyards just below Perrone's property and planted new vines. From there a number of partnerships were formed with the surrounding vineyards, mostly by individuals with Stanford Research Institute credentials, up until 1986 when the Japanese pharmaceutical company Otsuka became the owners. The Ridge team is still more like a group of inspired academics than anything remotely corporate.
The history of the Ridge Sonoma Three Valleys began with the release of the 2001 vintage. The wine contains grapes from a number of Sonoma vineyards and varies from year to year. The 2012 vintage is a blend of four grapes; Zinfandel (79%); Petite Sirah (8%); Carignane (12%); and Alicante Bouchet (1%). Comparing this to 2011, two additional grapes were added, Mataro and Grenache. In addition, the 2011 vintage only contained 65% Zinfandel. This was due primarily to Zinfandel suffering low yields for the past four years, rebounding in 2012, with a large crop. Warm weather through September brought the grapes to ideal ripeness, and natural-yeast fermentations began immediately. The 2012 vintage is from grapes grown on seven vineyards in three Sonoma County valleys. The crush and fermentation process takes place at both Monte Bello and Lytton Springs. The wine picks up the characteristics from the various grapes that have been wonderfully blended together. Zinfandel determines the wine's varietal character; old-vine Carignane contributes bright fruit and acidity; Petite Sirah spice, depth of color, and firm tannins.
The 2012 Three Valleys wine has a deep red color and a great nose full of zesty fresh fruit and berries.  The taste has both depth and character with red raspberry and sweet cherry fruit flavor. The wine is supple, mildly tannic, and finishing with a little spice. This was a very easy drinking and enjoyable wine, and for about $25, reflects a good value. Three Valleys wine would go nicely with a wide variety of foods.
Cheers!