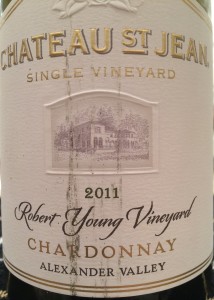 Chateau St. Jean 2011 Chardonnay Robert Young Vineyards
Not long ago, I commented on Chateau St. Jean's 2011 Chardonnay Sonoma Coast, today I am going to comment on their single vineyard Chardonnay from the Robert Young Vineyards.  The estate of Chateau St. Jean is located at the foot of Sugarloaf Ridge in the Sonoma Valley near Kenwood, California.  The estate was founded in 1973 and recognized as a true leader in "Vineyard Designated" wines.  The winemaker, Margo Van Staaveren, brings with her 30 years of experience and draws out the best that Chateau St. Jean vineyards has to offer.
The Robert Young Vineyard is tucked away in a protected cove at the northern end of Alexander Valley, and has a long history of growing superior wine grapes in its fine sandy soil. Robert Young saw an opportunity to custom tailor a Chardonnay clone that was best suited for his vineyard site.  Using the best selection from his original plantings of the Wente clone, Robert Young had his "Robert Young Clone" certified in 1989. Chateau St. Jean produces both a vineyard designated Chardonnay and Pinot Blanc from this famous vineyard.
I opened a bottle of Robert Young Vineyard, chilled at about 50 degrees, and noticed a clean aroma of fresh fruit, apples, pear and citrus with a hint of lemon.  The glistening straw yellow color warmed my glass as I was pouring the wine.  Tasting the wine I noticed it was somewhat richer than their Sonoma Coast offering with good fruit structure, almost creamy, bringing forth a toasty oak flavor, clean acidity, and a mineral finish of medium length.  A nice offering for about $25.
Cheers!