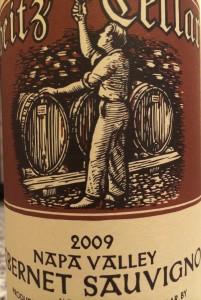 Heitz 2009 Cabernet Sauvignon Napa
Recently I reviewed Heitz Cellars 2012 Napa Chardonnay (see my July 15, 2014 review), not overly complex, but a refreshing Chardonnay.  However, Heitz is best known for Cabernet Sauvignon, so let's get to it.  I previously mentioned that in 1966, Joe Heitz had the foresight to single vineyard designate the Cabernet grapes from the May's vineyard and crafted the renowned Martha's Vineyard Cabernet Sauvignon, initiating a concept in Napa Valley.  Joe's winemaking mastermind was evident, and the acclamation for Martha's Vineyard Cabernet Sauvignon, which continues for 48 years and counting, helped to usher California onto the world stage.  Heitz makes a few different Cabernet Sauvignon's, today I will talk about their Napa Valley offering.
The Heitz Cellars 2009 Napa Valley, 100% Cabernet Sauvignon, is sourced entirely from Napa Valley and is aged on Oak for 3 years. Opening a bottle, especially a 2009, I would recommend decanting for at least 45 minutes before enjoying this wine.  Pouring a glass I noticed a very deep ruby red and aromas of black cherries and dark berry fruit.  On the palate layers of complex flavors pour forth, dark berries and cherries, hint of sweet spice and a touch of leather notes.  Wine is well balance with a soft smooth tannin structure that lingers nicely.  Delicious!  Grab a bottle for around $40.  Stay tuned, I will try some of their other offerings, including the renowned Martha's Vineyard Cabernet.
Cheers!