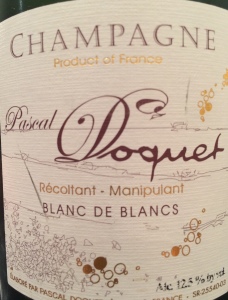 Pascal Doquet Blanc de Blancs Champagne
Completely independent since 2004, this vineyard, consists of 8.66 hectares, the winery continually searches for healthier and more environmentally friendly farming methods of the terroir and the consumer without constraint.  Since 2004, the brand sells under the name Pascal Doquet Mesnil Grand Cru and developed a vineyard that evolved to an organic viticulture.  This is another Champagne with the words "Récoltant Manipulant" or "RM" on the bottle label, again meaning that the grapes are grown on the Estate, the Champagne is produced at the Estate and the Champagne is bottled at the Estate.  The grower has full control over the quality of the wine from the vineyards to your glass.  Searching for these Champagnes can come with a reward and not only enjoy a better tasting experience but sometimes these Champagnes cost less than the "big" guys, reason, NO marketing budget.
Opening a bottle, and remember Champagne is an elegant wine, try and not "bruise" the wine by making it "POP" which lets out too much gas prematurely.  Instead slowly twist off the cork and let out the faintest swish of gas.  Another trick to ensure to get maximum bubbles is to chill your glass first (chilling the glass a bit with club soda and ice enhances the bubbles).
I noticed a nice light golden yellow color and immediately noted fresh apples and pears with a bouquet showing the presence of minerals.  The fine bubbles are plentiful, somewhat frothy, amplifying the craft in producing this wine.  The taste was rich with flavors of peach, pears, apricots and sweet citrus dancing around.  The Champagne was well balanced with good acid and structure.  The finish had a slight toasty oak flavor, not as pronounced, but lasted through a medium length finish.  A very memorable wine that will envy the big guys.  I have heard that this Champagne is a "winemakers wine."  Valentine's Day is around the corner, so plan on opening a bottle.  Enjoy with someone special!
Cheers!