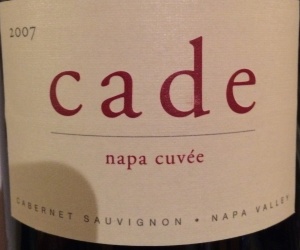 Cade 2007 Napa Cuvée Cabernet Sauvignon
In 2005, John Conover, Gavin Newsom and Gordon Getty founded CADE Estate Winery on Howell Mountain as a complement to the valley floor terroir of PlumpJack Winery.  Like PlumpJack, CADE takes its name from Shakespeare, who used the term to refer to the wine casks or cades used to transport wine from Bordeaux to England in Elizabethan times.
Deep red with concentrated aromas of black fruit and subtle spice.  The palate is focused on dark fruit, mostly blackberry and black cherry, with a light touch of oak, leather and chocolate.  Elegant wine with a lingering finish.  Nice!
Cheers!