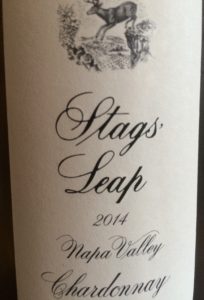 Stags' Leap Winery 2014 Napa Chardonnay
Stags' Leap Winery, (note the placement of the apostrophe), produces the Chardonnay I will discuss today. The use of "Stags Leap" may be confusing. Another nearby winery named, "Stag's Leap Wine Cellars" produces excellent wines as well, also note the placement of that apostrophe. Lastly, there is the Stags Leap District, which is the name of the appellation where the two aforementioned wineries are located. The Stags Leap District (no apostrophe) is renowned for producing outstanding Cabernet Sauvignon and Chardonnay, is located between the Napa River and the Stags Leap Palisades.
One of California's earliest wine estates, a unique terroir and ideal microclimate support a classical standard of viticulture, land use, and winemaking that is as relevant today as it was over a century ago. An intimate valley within the greater Napa Valley, Stags' Leap is a place of natural beauty, storied buildings and gardens, a lively history, and a reputation for elegant wines showing finesse and intensity. A fashionable country resort in the mid-twentieth century, popular with Hollywood due to its 1892 stone Manor House and historic gardens, legends of bootleggers and gangsters, ghosts and gypsies, Stags' Leap has been home to three major family groups up through the modern revitalization of the winery that began in the 1970s. Stags Leap Manor, as it was called in the 1920s, was known as one of the prominent country retreats in the Napa Valley at a time when resort and spa business was big. Founders Horace and Minnie Mizner Chase entertained on a lavish scale, and in addition to lodging and dining, amenities included lawn tennis, swimming, horseback riding, children's activities, golf, music, cards, a library, and Napa Valley wines and liquors (prior to and after Prohibition).
The 2014 Chardonnay had a rich light sunshine color, with a bouquet of fresh stone fruit and citrus aromas with whiffs of toasty oak. The Chardonnay was very crisp and clean with a lemon, melon and pear flavor tightly wound around some light toasty oak. The medium finish had notes of wet stone and minerality on this well balanced Chardonnay. Summer is just getting started, so grab a few bottles of this elegant wine and relax. A great price for a summer favorite.
Cheers!