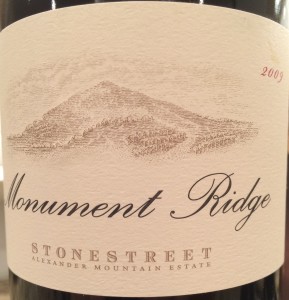 Stonestreet 2009 Monument Ridge
Ranging in elevation from 400ft to 2400ft, Stonestreet Estate Vineyards stands as the one largest and most extensive mountain vineyards in the world. Towering high above the Alexander Valley in the Mayacamas Mountain Range, Stonestreet Estate defies all previous conceptions of winegrowing. Single vineyard blocks are aligned in every imaginable spot on the compass, with peaks, valleys and ridges creating a broad spectrum of varied facings and elevations. Monument Ridge Cabernet Sauvignon is sourced from a handful of blocks situated on the spine of the primary mountain crest that runs through the estate. These blocks are blended to personify the ridgeline, which is comprised of a wide variety of soils, solid exposure to the sun and breeze and—as the fog line stops at 1,800 feet—two very different mesoclimates found on either end of this dividing line.
I noticed a very deep ruby red color, with aromas of dark fruit, spice and herbs.  The palate develops the fruit nicely, rich black cherries, plums and black raspberries come forth mingling with herbal notes, some cacao and black pepper with well integrated oak.  The wine showed layered tannins, and a gentle touch of minerality gives this medium length wine a satisfying finish. Should continue to age well for another 5 years. It complemented my Porterhouse steak. Very Nice!
Cheers!