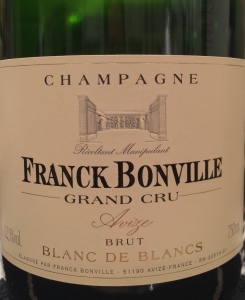 Franck Bonville Grand Cru Blanc de Blanc N.V.
Franck and his wife Jeannine after the second war commercialized the first bottles of champagne from a vineyard already connected on the lands of Avize and Oger for over twenty years.  Today, Giles and his wife Ingrid Bonville, together with their son Olivier spend time tending to the operation of the winery, including updating and modernizing the facility.  Their goal is to grow grapes of the highest quality and produce great wines which are fresh, delicate and elegant.  If you read the label, you will see the words "Récoltant Manipulant" or "RM" on the bottle of Franck Bonville, which means that the grapes are grown on the Estate, the Champagne is produced at the Estate and the Champagne is bottled at the Estate.  The grower has full control over the quality of the wine from the vineyards to your glass.  If you search well, and are an informed Champagne lover, sometimes these Champagnes cost less than the "big" guys, reason, NO marketing budget.  For example Franck Bonville only costs $35 as compared to Veuve Clicquot at around $45 (No "RM" on Clicquot label).  The quality between the 2, do not compare.
Opening a bottle, and remember Champagne is an elegant wine, try and not "bruise" the wine by making it "POP" which lets out too much gas prematurely.  Instead slowly twist off the cork and let out the faintest swish of gas.  Another trick to ensure to get maximum bubbles is to chill your glass first (chilling the glass a bit with club soda and ice enhances the bubbles).  I noticed a nice pale yellow color and immediately noted white fruit flavors with a floral bouquet and the presence of chalky minerals.  The bubbles are fine and plentiful with a foam froth top, amplifying the handcrafting that went into the wine.  The taste just exploded in my mouth and rich flavors of peach, lemon and honey comingled together.  The Champagne was well balanced and had a nice structure, somewhat creamy.  The finish had gentle toasty oak flavors with mineral notes that lasted a bit longer than medium length.  A very memorable wine that leave the big guys in the musty cellar.  Great Value!  Grab a few bottles, if you can find them.  Valentine's Day is around the corner, so plan on opening a bottle.  Enjoy with someone special!
Cheers!