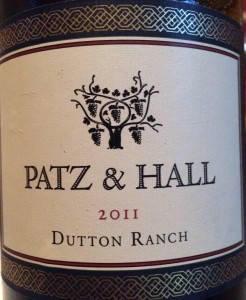 Patz & Hall 2011 Dutton Ranch Chardonnay Russian River Valley
I recently reviewed Patz & Hall 2012 Sonoma Coast Chardonnay, see July 11, 2014.  I was impressed by this wine I had to try Patz & Hall's Dutton Ranch Chardonnay and was able to grab a 2011 vintage.  Founded by 4 individuals Patz & Hall is one of California's premier wineries.
In 2011 the growing season was extremely cool resulting in a very small crop, with tiny berries in small clusters.  Such low yields heighten the wine's concentration, density and texture.  Dutton Ranch, Russian River Valley, is one of several single vineyard Chardonnay's offered by Patz & Hall.  Opening a bottle I notice a light warm pale yellow color and aromas of nice full ripe fruit, mostly peaches and pears, with a hint of lively citrus notes.  The palate transforms into a rich approachable pleasant wine that tastes of structured flavors of green fruit with some pineapple and lemon citrus topped off with a light mineral and toasty oak finish.  I thought this wine was outstanding, however I do prefer their 2012 Sonoma Coast offering I previously reviewed.  I understand that the 2012 growing season was longer than 2011 allowing the fruit to fully develop and letting the winemaker pick the fruit at the optimal time.  That said, I will get my hands on a 2012 Dutton Ranch and provide a comparison review.  Pick up a bottle, make 2011/2012 comparison yourself and let me know. Until then!
Cheers!