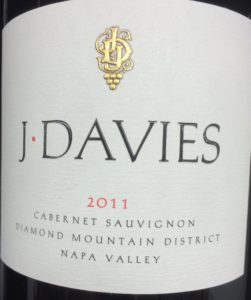 J. Davies 2011 Cabernet Sauvignon Diamond Mountain District
The Davies family, proprietors of Schramsberg Vineyards in Napa Valley, produces still wines from the historic Diamond Mountain vineyards purchased in 1965 and replanted to Bordeaux varietals beginning in 1994. The wine is named in honor of patriarch Jack L. Davies, who along with his wife, Jamie, revived the Schramsberg property and established the preeminent American sparkling wine house more than four decades ago. A creation of the next generation of the Davies family, the J. Davies Cabernet Sauvignon is the product of an intimate knowledge of a place and a passion to create a delicious red wine.
Opening a bottle of the 2011, which is a blend of 86% Cabernet Sauvignon and 14% Malbec and aged for 24 months on French oak, I noticed a dark purple, almost inky color with aromas of fresh ripe red and blue fruit.  The palate shows the fruit nicely with plum, blueberry and black cherry flavors, a touch jammy, ripe round tannins, touch of spice with smoky cacao and earthy minerality.  Decanting this young Cabernet will benefit, however will last a decade in your cellar.
Cheers!