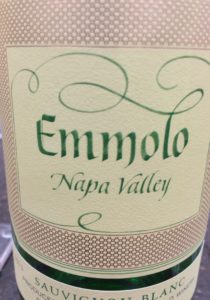 Emmolo 2013 Napa Valley Sauvignon Blanc
Jenny Wagner has taken the reins of Emmolo (m–oh–low) Winery from her mother, Cheryl Emmolo, the owner and founder of this lovely Rutherford estate. Jenny's great-grandfather, an Italian immigrant, Salvatore Emmolo, planted virgin soil to grapevines, such as Carignane and French Columbard in the 1920's. After becoming an established grape grower, he started a grapevine rootstock nursery and opened up Palermo Winery in 1934, named after the city from which he immigrated. Throughout the years Jenny's grandfather, Frank Emmolo, found out that Sauvignon Blanc was best suited to that soil. Today, her grandparents continue to enjoy life farming on this Rutherford property.
A marriage of the Rutherford and Oak Knoll AVA's, the 2013 Emmolo Sauvignon Blanc is straw yellow with aromas of fresh fruit and wet stone. On the palate crisp peach, honeydew melon and orange rind flavors with a touch of floral spice. The wine is well balanced with vivid acidity and minerality on the lingering ending. Nice value! Tasting Sample!
Cheers!